The Warema Lamaxa Louvre Roof was the recipient of both the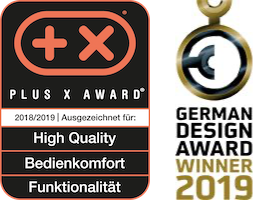 2018/19 Plus X Award and the 2019 German Design Award. Deciding attributes were the quality of the materials, smooth operation and minimalist design. Lamaxa is an uncompromising combination of form and function for the ultimate outdoor shading solution.
Lamaxa Louvre Roofs have controllable tilting louvres that allow for the precise attenuation of sunlight and shading of outdoor spaces. When closed, the louvres overlap and seal against each other to create a waterproof canopy. Special louvre ends combine with integrated guttering and drainage via the supporting legs, to reticulate rainwater safely away from the structure.  There are three models in this range; the L50, L60 and L70.
All models are available up to 6m long by up to 4.5m wide (24 sq/m max) and is available in an extensive range of colours including DB Classic and RAL colour ranges.