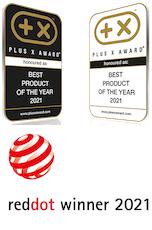 Introducing the L50, the latest addition to the Lamaxa louvred roof range from Warema and the winner of both "Best Product of the Year" award at Plus-X and Red Dot Design Awards in 2021.  The L50 features the same well proven features of its predecessors, but is simplified through the use of a discreet motor within the slat profile and a push rod system to pivot the slats up to 135 degrees. Once closed, the slats lock together to form a waterproof canopy, which reticulates water in to the side channels and in to the supporting legs, which double as downpipes.
Many new additional accessories can be integrated within the system.  These include GranTex, a vertical awning that can be integrated within the crossbeam for additional weather protection and privacy, LED lighting modules as well as color coordinated radiant heaters. The L50 can be integrated with existing structures or installed freestanding.
Price Guide
The starting price for a complete supply and installation of Lamaxa L50 louvre roofs is $50,000, reflecting our commitment to premium quality and meticulous precision in engineering.
Key Features & Benefits
Louvres tilt to allow the control of direct sunlight and shade
Interlocking louvres create a waterproof roof when closed
Integrated drainage system incorporating enclosed gutters and downpipes
Able to span up to 6m by 4.5m
Integrated with Warema's WMS Control systems
Wind resistance up to 1.1 kN/m²
Can bear load up to 230 kg/m²
Applications
Outdoor patio areas
Commercial eating areas or public spaces
Large glazed skylights
Landscape structures
Streetscape structures
Components explained
Downloads
| | |
| --- | --- |
| Brochures | |
| Technical Drawings | |
| CAD Files | |
| Specification | |
Photo Gallery