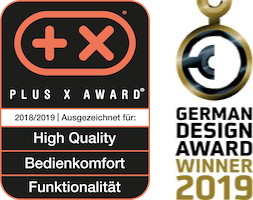 The Warema Lamaxa Louvre Roof was the recipient of both the 2018/19 Plus X Award and the 2019 German Design Award. Deciding attributes were the quality of the materials, smooth operation and minimalist design. Lamaxa is an uncompromising combination of form and function for the ultimate outdoor shading solution.
The Lamaxa L70 Louvre Roof has louvres that both tilt and can be retracted in to a compact stack at one end. This allows for control of light and shade, and the ability to stack the louvres when not required. Both tilting and stacking are motorised and can be controlled via a hand-held remote control or other control system.
As with the L60, the L70's louvres lock together when closed to create a waterproof shelter. Special louvre ends combine with integrated guttering and drainage via the supporting legs, to reticulate rainwater safely away from the structure.
Optionally, Warema Zip Awnings can be integrated into the top rails to add operable vertical shading and wind protection to any of the sides.
The Lamaxa L70 is available up to 6m long by up to 4.5m wide (242/mtr max) and is available in a large range of DB Classic, RAL and other colours.
Price Guide
The starting price for a complete supply and installation of Lamaxa L70 louvre roofs is $100,000, reflecting our commitment to premium quality and meticulous precision in engineering.