---
Terrace House

, Brunswick
Sustainable city living:
Terrace House by Austin Maynard Architects
Located on the bustling Sydney Road in Brunswick, Melbourne, Terrace House is a collection of 20 residences across a mix of one, two and three-bedroom homes. Highly sustainable and 100 per cent fossil fuel free, the development emulates the layout of traditional terrace homes - external outlooks, a front verandah, a study and a shared 'backyard' on the roof - albeit stacked six storeys high.
"In Australia, the average home measures 233m² and is, typically poorly designed, high maintenance and inefficient in terms of space and energy," says Andrew Maynard, founder at Austin Maynard Architects.
"By contrast, small inner-city apartment buildings seek to maximise returns, using saddlebacks, compromising bedrooms and facing homes inward, towards each other. We believe homes should have an aspect out from the site, into the surroundings, and to the sky."
The design of the exterior draws on Sydney Road's rich and diverse building heritage, as well as Brunswick's post war Mediterranean- Australian architecture, industrial buildings and grand Victorian shop fronts.
"Terrace House borrows from this context in a respectful and playful way," says Maynard.
"A modern interpretation of the context, with recycled brick and tall tubular steel arches reflect the suburb's industrial past. The facade is a metal mesh intended to be taken over by the landscape adding further solar protection and a green outlook in an inner-city environment."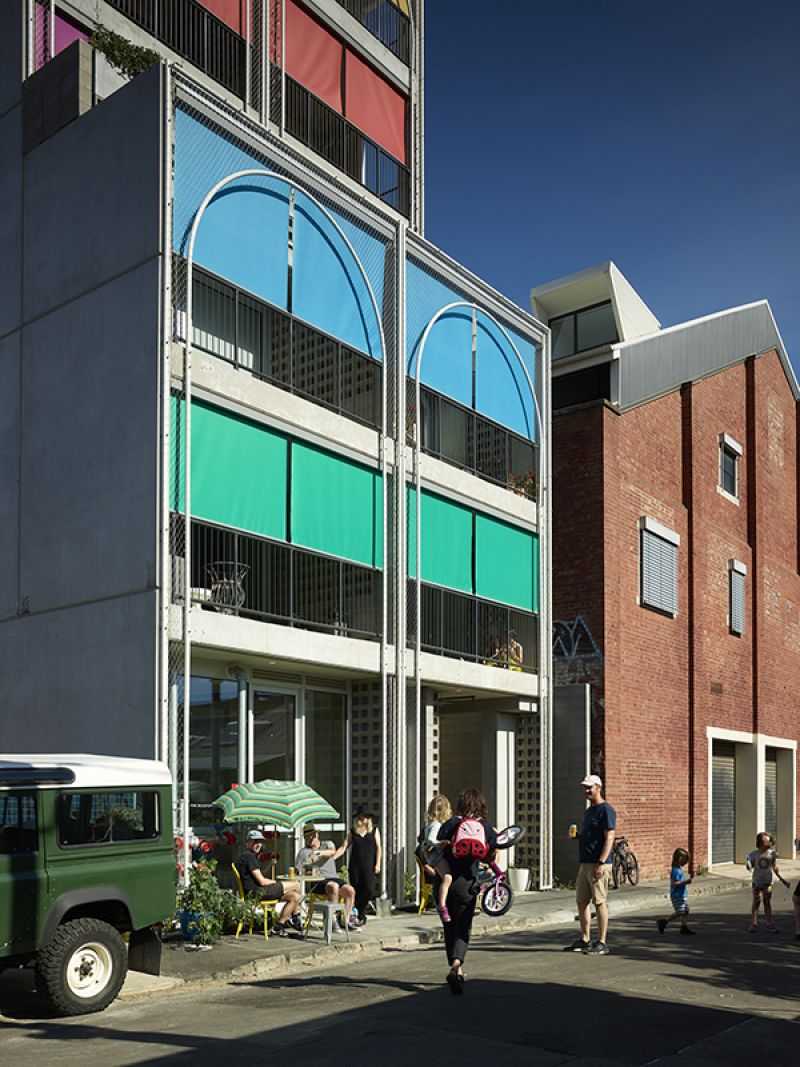 The project, which won the Sustainable Architecture Award at The Australian Institute of Architects 2022, took into consideration the wishes of potential purchasers, who were concerned about climate change and wanted a highly sustainable and resilient development.
"Almost no one requested air-conditioning, with the knowledge that Austin Maynard Architects would be designing a highly thermal efficient building," says Maynard. "The vast majority of respondents wanted a car free home as almost everyone commutes via public transport, bicycles, walking and Uber."
As a sustainable building, greenery was integral to the design, and so Terrace House features an internal communal garden on the ground floor that offers seating and access to sunlight, whilst providing shade and wind protection. The roof, with expansive views of the city and distant hills, is a place for individual and communal use. Much like any typical Brunswick backyard, it has a clothes line, a productive garden and a lawn area, with a tree for shade.
Selecting Sun Shading
Terrace House required a facade shading solution that would not only meet the regulatory requirements for a multi-residential application, but a product that would compliment and enhance the playful yet robust architectural concept.
The team selected Warema Terrea K50 folding arm cassette awnings and Warema vertical awnings with cable guidance.
Shade Factor worked closely with Austin Maynard Architects and the fire engineers to make sure the blinds complied with the safety and fire requirements via a performance solution.
"Shade Factor was able to provide a certified product that best suited the very specific application, while automation and a sensor system has allowed for ease of use by apartment residents," says Mark Stranan, associate at Austin Maynard Architects.
"Shade Factor was also able to provide a range of fabrics that satisfied our ambition to bring the building to life through the use of bold colours."
The products ensure residents can moderate light and heat gain year round, thereby contributing to the overall passive design strategy.
"From an aesthetic perspective the products offer a unique and recognisable element to the building facade in the use of colour," adds Stranan.